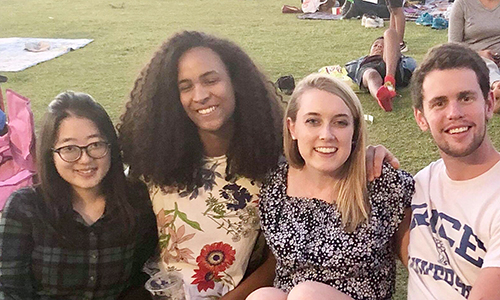 At Osaka University, you have the opportunity to study abroad for one or two semesters. The options are endless: the US, South Korea, the UK, Australia, India, Brazil, Canada, Russia, Singapore … I personally chose Rice University (Texas, USA) as my destination for my one-year study abroad experience. Other people in my cohort have gone to California and other states, as well as Australia.
Studying abroad was one of my goals as a freshman. Anyone applying for an exchange abroad can list several universities they want to attend. I had Texas as my favourite destination. Many of my friends kept asking me why I decided to go to Texas. Well, I had quite a few reasons why I wanted to go there, but a simple way to put it is this: I was curious. I had heard many stereotypes about Texas, but I wanted to learn how Texas was like by myself. And I had never stepped a foot in the US. There are many factors you may consider when choosing a destination. For me, the high-quality education at my host university was decisive as well. I must also admit that coming from a warm country, the nice warm weather in Texas was also a plus.
My experience abroad is one I will never forget. I made wonderful memories with wonderful students, advisors and professors. I was academically pushed, and felt fulfilled in my classes. I ate Texan barbeque for the first time, joined student clubs, attended cultural events, and took breaks from studying by getting late night food with friends. I also learned firsthand the hardships of not having a car in a huge state like Texas. At the same time, I have great memories carpooling with friends. I learned a lot, and I also ate a lot. Surprisingly, my diet was not based on hamburgers like my friends believed it would be. I was able to taste food from all parts of the world. I even tried a mix of Korean and Mexican food. Of course, it was not always sunshine and rainbows. I experienced some hardships while abroad, but I had an amazing support system available there. In the end, my exchange was a great learning experience, and I often look back fondly at my experience abroad.
I can say with full certainty what many of us will say when returning: it changed me as a person. I have been exposed to a different way of life, a different university culture, and different people. It is always a good idea to expand your world. You can most definitely do that within Osaka University by putting yourself out there. But at Osaka University, you also have the opportunity to discover a different country and university!
So you want to go abroad. What is the next step? People often ask me what they should do once they know they want to study abroad. This may be obvious to you, but the first step is researching your study abroad destinations. Why do you want to study abroad and why did you choose your destination? How does studying abroad fulfill your goals and study plan? Equally important, plan ahead so that you know what is expected of you once you return to Osaka University.
I would like to thank Osaka University for giving me the opportunity to study abroad.