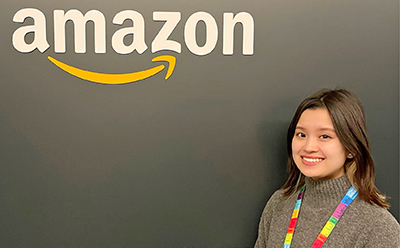 Life at Osaka University
I still remember the day I received my acceptance letter for the Human Sciences International Undergraduate Degree Program (IUDP) at Osaka University, and how happy I was to share that special moment with my family. I grew up in San Francisco as a Chinese-Japanese-American, and Osaka had always been my second home as my family visited my mother's hometown in Hirakata/Takatsuki every summer.
In addition to the various courses that were offered within the IUDP, I enrolled in classes that were taught in Japanese alongside other Handai students to further explore my academic interests. IUDP also offers courses to help students learn Japanese, and I personally found it amusing how several classmates who didn't speak Japanese when we entered graduated university with a heavy Kansai dialect.
Besides making life-long friends and finding interests in different academic fields, all the students are guaranteed to receive an overwhelming amount of support from the IUDP office staff. From the day I was accepted into the program, they always went above and beyond in helping students with their personal needs, and I cannot thank them enough for all they have done for everybody in the program.
Extracurricular Activities
In my 4 years at Osaka University, I had the opportunity to participate in extracurricular activities with different roles in two organizations: being a public relations officer at UNISC(University Student Chamber) and the 11th president of JNSC (Japan-the Netherlands Student Conference). I had the privilege to partake in funded visits to Taiwan and the Netherlands where I deepened my knowledge of Japanese-Taiwan and Dutch-Japanese relations and culture as well as meeting amazing people that I still keep in touch with to this day.
Working in Japan
As a student, I had a part-time job as a tour guide, translator, and an English teacher at acram school, and also took part in an internship at a small start-up company where I had multiple opportunities to have hands-on experience of working in different fields in Japan. After graduating from HUS, I moved to Sendai to enter the workforce. I spent 10 months job-hunting (shuukatsu) where I reached out to senpais who had graduated before me for advice in addition to doing my own research and utilizing as many resources as possible top repare for exams and interviews.
Looking back at the experience now, job-hunting in Japan was both onerous and fun at the same time in the sense that it challenged my knowledge about Japanese society as well as the language itself. Fortunately, I was also able to consult with professors and office staff who generously helped to prepare me for the process.
Contrary to my concerns before graduating from Handai, I truly enjoy working at the current company and am learning something new every day in an exciting environment surrounded by diligent colleagues with unique backgrounds. I think often about how fortunate I am to have had such a rich life in Osaka that helped develop and nurture the skills that I can exhibit at work today and would like to thank everybody I had the pleasure of meeting during my 4years at Osaka University who have made this journey an extremely valuable experience for me.