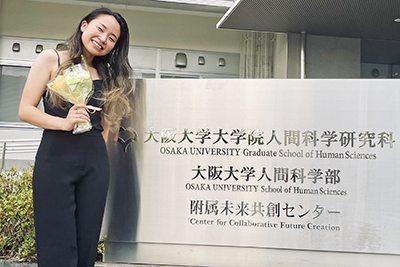 If it was like any other year in 2020, I would've had my exchange year in Canada, maybe created great memories, and returned with an experience I would cherish for a lifetime…
But sometimes things just don't go according to plan, and with COVID-19 and the subsequent travel restrictions, everything started to fall apart. As with everybody else, I had no backup plan for the unprecedented event, and I found myself worrying that staying in Japan was limiting my opportunities in expanding my horizons.
Yet, if I was told that I could relive all of it, and that I could go abroad to study in exchange for the experiences I had staying here in Osaka, half of me says yes; but the other louder half of me says, maybe not.
Working at NPO Cross Base
Amidst the pandemic, I had the opportunity to work at a non-profit organization named Cross Base. Located in Ikuno district, Cross Base provides educational support to students at a low cost with the aim to prevent ethnic, racial, and socioeconomic disparities in education. In a region where 20% of the population have their cultural roots outside of Japan and 30% of children in compulsory education are eligible for financial educational support, Cross Base has become a place where students from various backgrounds come to study and find a place to belong.
I initially learned about Cross Base through a diversity and human rights class at HUS, where an office member at the NPO came to speak as a guest lecturer. Enjoying teaching children, I remember I was intrigued to hear their initiatives and the work they have done within the community. At the same time, with my research interests in the area of Japan-South Korea relations, I was optimistic that the NPO, being located in Korea town, would become an opportunity for me to further understand the cultural exchange that occurred at the local level.
At Cross Base, I was a tutor to several newcomer students, all with varying Japanese levels and academic needs. While challenging at times, it was special having a strong bond with many of my students, and I was very happy to see them grow both academically and mentally. It was also an eye-opening experience to directly observe the difficulties faced by migrant children, making me recognize the importance of out-of-school sites like Cross Base.
Furthermore, as an office staff, I was able to experience first-hand the work that went into running an NPO. Being in charge of public relations, I led and managed online content used to promote the organization's activities. Given the creative freedom to produce all types of content such as event flyers, activity reports, and bimonthly newsletters, it was a rewarding experience to be part of spreading their initiatives to the wider public.
Being in the office also meant that I had the opportunity to partake in the development of projects, and I had an enjoyable time organizing events for students and working with other organizations/individuals that supported the same cause. My work in the office also led to participation in projects within Korea town, and it was a remarkable experience meeting people who actively took part in improving relations between Japan and South Korea at the people-to-people level.
Expanding Your Horizons at HUS
The opportunities I had through Cross Base have truly been memorable, and I wouldn't exchange my experience with anything else. Contrary to my assumption that I had limited opportunities, staying in Osaka rather gave me the chance to explore ways in which I could both deepen and broaden my interests within the community I lived in. It was through this community and the courses at HUS, where I was able to not only prepare myself for my postgraduate studies in international relations, but also discover my passion for working with children with multicultural roots.
Looking back, I believe that my experiences were made possible due to the unique learning environment offered at HUS. With its diverse courses, I was given the opportunity to expand my horizons right at my doorstep, and while it took a pandemic and a worldwide lockdown for me to realize and appreciate it, I am grateful to have been able to spend my undergraduate years in such an exceptional environment.