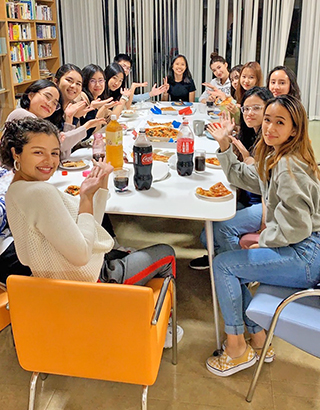 Attending university marks a significant milestone in most students' lives, since it is often the first time they have to navigate living independently, away from the comfort and familiarity of their family and childhood friends. For me, this transition was made all the more memorable by my decision to live in the International House on Toyonaka campus.
First Impressions, and Moving In
Coming from the United States, where the cost of room and board is notoriously high, the affordability of dormitory living in Japan was a dream come true. Not only was the rent and utility fees a fraction of what I would have paid back home, but the added convenience of having larger electric appliances such as a washing machine and refrigerator already provided in my room was a welcome surprise.
The room, though small, was very cozy, and everyone got very creative with decorations. Some people filled their shelves with their favorite books and letters from friends back home, while others hung up colorful tapestries and filled their room with plants. I decorated my room with string lights, polaroids, and some other furniture and appliances I found at Nitori (a college student's best friend in Japan). Arranging my room to my liking was undoubtedly one of the most exciting parts of the moving-in experience!
Convenience of Living in the Dorm
One word that captures the experience of living in the International House is "convenient". The dorm's location, in close proximity to lecture halls, was truly a godsend, particularly for those like me, who are by all means not morning people. On more occasions than I care to admit, I found myself waking up mere minutes before class and scrambling to get myself ready, often leaving the dorm in less than presentable attire. While my morning routine may not be one to emulate, the important takeaway is that the dormitory's location made it incredibly easy to get to classes on time.
Aside from the convenience of being close to class, the dorm was also located minutes away from local convenience stores. I have incredibly fond memories of late-night (or early morning, depending on your perspective) gatherings with friends, celebrating the submission of our final papers with ice cream and corn dogs from the nearby Seven Eleven.
The dorm was also great for getting everyday necessities, thanks to it being near Ishibashi station and its bustling shopping alley. A quick bike ride or a leisurely walk through the campus brought me to a wide variety of shops and stores, where I found everything my heart and stomach desired!
Support Systems
Moving into the dormitory was made smooth and easy thanks to the dorm support office, particularly Ms. Ikeda, who was always available to assist us with our needs, providing valuable advice and being an excellent resource for us all.
As many of us were new to the experience of living in a Japanese-style room, Ms. Ikeda's patience and kindness in answering our questions, and going above and beyond to address our concerns made a huge difference. I believe I speak for many when I say that the overall experience of living in the dormitory was greatly enhanced thanks to all the staff members in the office!
Living with Friends and Classmates
One of the best things about living in the dorm was being near friends and classmates. The communal atmosphere made for memorable social events in the common lounge area—we had a dinner party after our first class, pizza parties to celebrate birthdays, holiday events hosted by the HUS IUDP Student Council, and many other unforgettable gatherings together.
On nights where we got homesick, the comfort of being near friends was invaluable. A simple trip up the stairway to bring hot soup and diced fruit was all it took to keep us going. Working on group projects was made more enjoyable (and manageable) by the ability to collaborate in each other's room, fueled by snacks and a sense of "we're in on this together".
These are just some of the many things I miss dearly about living in the dorm! I'm incredibly grateful for the experience and can wholeheartedly say that living in the dorm was what made my first year at Osaka University so enjoyable and worthwhile.