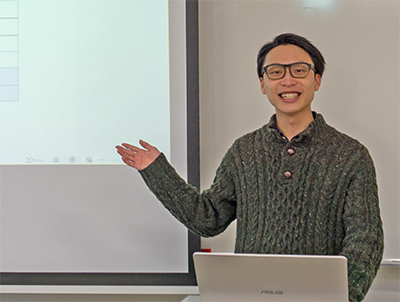 Hi, I'm Nam and I'm a student of the 2017 cohort. At the moment of this writing, I am enrolled in the Master Program of Kyosei Studies at Human Sciences Department, Osaka University. Looking back at my years of studying in the Human Sciences International Undergraduate Degree Program (IUDP) and living in Japan, I thought that I've learned a lot and I hope some of the experience shared below will be helpful to you.
I, My Experience as a Student of the IUDP
What I appreciate most about the IUDP is that I was introduced to a wide range of academic disciplines and given tremendous freedom to explore and engage in research topics of my interests. I'm the kind who is curious about many things, from sociology, economics to education and even philosophy and literature. As a IUDP student I was able to learn and acquaint myself with the research in these fields, and taken together, I do think the education that I've had here has given me the tools and knowledge to further pursue my intellectual interests. At the moment, my research pertains to the issue of career formation in elementary schools in Japan, and the knowledge and skills cultivated as a IUDP student go on to inform and contribute to my current research.
The other thing which I find really special about the IUDP is the community that we have here. I felt myself to be extremely lucky to have met instructors and staffs who are supportive and encouraging, who spare no time or effort to engage with students both during and after class. And not to forget the students!! I have had the chance to work and study with some of the most talented and highly self-motivated students there are around, and they have always been a great source of encouragement and cause for further improvement.
II, After Graduation: My Reasons for Continuing to Master at the Human Sciences Department
After graduating from the IUDP in September 2021, I enrolled in the Master Program of Kyosei Studies at the Human Sciences Department. Research at the master level becomes much more defined and specific, therefore it is important to work with instructor who have knowledge in the area of your interests and experience doing research in that field. I had Dr. Beverley Anne Yamamoto as the first supervisor of my undergraduate thesis, and several key themes in my research, including education and gender, align with Dr. Yamamoto's areas of expertise. I felt that my academic knowledge and research skills have been expanded and developed in so many ways thanks to Dr. Yamamoto's guidance and kind support, hence my decision to advance to Master level at Dr. Yamamoto's research lab in the Graduate School of Human Sciences.
I also like the fact that the Graduate School of Human Sciences is very internationally oriented and as an international student I feel welcomed here. Besides classes and research projects, there are events all year round to which both international students and Japanese students participate to foster cross-country and cross-disciplinary communication. Last summer, thanks to the introduction from the department, I was able to take part in a 2-week internship at a Japanese firm well-known for business process outsourcing and providing career counseling service. It was the first time for me to do an internship at a major Japanese firm, so naturally there was a lot of nervousness. However, the whole experience has been highly educational and beneficial for my future research as well as my job hunting. Last but not least, I felt myself to be extremely lucky to have been recipient of a number of scholarships awarded to international students, which would have been impossible without the recommendation from the department and the kind and ready support from HUS professors and staffs.