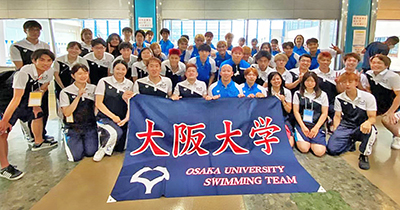 Being a member of the swim team
Since I participated in multiple sport teams in high school, I had a strong desire to join a competitive sport team at university as well. Through participating in trial practices for several clubs, I realized that the Osaka University Swim Team is the best suited for me to achieve one of my lifelong goals, which is to become a balanced person who is good at both academics and sports. The team is open to any students at Osaka University, and welcomed me even with a different cultural background. Kamalini (HUS Class of 2024) also joined the team as a manager.
As the swim team is an Osaka university's official sport team, I have valuable opportunities to participate in swim meets competing against other universities' teams in Japan. The major ones include the championship for seven former imperial universities, and the national and public university swim meet. Last year, the girls section won the All-Kansai National and Public universities Swim Meet, and was promoted to the first division in the All-Kansai University Swim Meet. The team goal for this season 2023 is to win the championship two years running. Being the sub captain in the team, I am also aiming at standing on a podium for 100m and 200m breaststroke, as well as setting new personal bests.
University life: academic life and club activities
The swim team practices take place in the morning (6:30-8:30 or 7:20-9:00), which enables me to allocate time for both swimming practices and studying. I feel this way is effective when considering university students have a lot of other things to do during the day (e.g. studying, internships, reading books, part-time jobs, eating out with friends etc…). Other than taking classes, I usually go to a library to focus on doing the required readings (students are expected to read before class), preparing for class presentations, or writing the final essays. The Human Sciences Library in Suita campus is my favorite place to study after morning practice.
Through being a member of the swim team, I learned the importance of achieving goals together as a team, which cannot be done by an individual. As it was different from my previous experience of club activities at international school, I was surprised by how the team members consider others and devote themselves to practices. I had felt swimming only as an individual sport before joining the team, but now I feel a stronger sense of being in a "team" where we are strongly bonded through supporting each other. I have become more patient and considerate through the past three years. I appreciate being part of the two communities at Osaka University: HUS IUDP and the swim team.