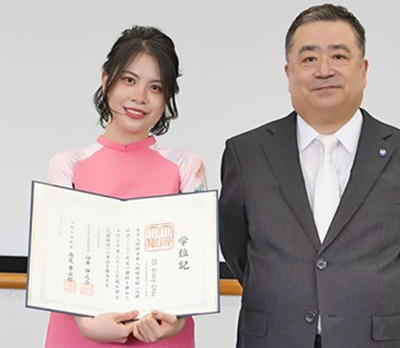 Outbound graduate school journey: Osaka University as the springboard to the international intellectual community
From October 2021 to September 2022, I was a Master of Science (MSc) in Sociology student at the University of Oxford. In the spring and summer of 2022, I was accepted as a PhD student to both the University of Tokyo's Graduate Program on Global Society for Area Studies major, and the Research Group on Gender Inequalities and Fertility of Max Planck Institute for Demographic Research (MPIDR). I eventually gravitated towards the latter as my next intellectual destination (though I have suspended my attendance at Max Planck for personal reasons).
In a Facebook post, I explained "I'm passionate about both subject matters but was more attracted by the better opportunities offered by Max Planck and the perk of broadening my epistemological and cultural repertoire. Since Sociology is pretty much about the society in which the researcher is embedded."
The unique charms of IUDP
I went on to reminisce about my time at the Human Sciences International Undergraduate Degree Program (IUDP) and pay homage to my undergraduate undertaking in the same post:
"Looking back at how far I've come, I can't help but be grateful for Handai, my other alma mater. I might have betrayed Japan (again) for not returning, as much as I yearn to, but I shall never forget my roots, in which I take so much pride. IUDP transformed my worldview and made me fall in love with Sociology."
To be utterly honest, as an 18-year-old kid who had applied for IUDP, I was completely unaware of what Human Sciences even meant since it was not a high-profile study field in Vietnam by any means, and still is the case now. At the Introduction to Sociology course, my first ever encounter with Sociology, I learnt about Durkheim and Weber, alongside Marx, and the sociological explanations they advanced. I hadn't known societal functioning and stratification could be interpreted from such diverse and conflicting angles as I had only been exposed to a single ideology as a Vietnamese. I would say that was the starting point of having my intellectual curiosity piqued and feeling glad that I took the brave step of studying abroad, at Handai specifically. Essentially, IUDP embodies the kind of liberal, emancipatory education that I wish all could go through at least once in their life.
Another long-lasting gift I was bestowed at Osaka University is my extracurricular experience with the Parliamentary Debate section of English-Speaking Society. I had thought debating in English should pose no difficulty, but joining the circle proved me wrong. Through relentless practice, my lengthy way of making arguments was shortened and made more illustrative, my critical thinking skills sharpened, my knowledge of topical social issues around the world enhanced. My improved communication skills were recognized by professors at IUDP who applauded me for my lucid way of expressing opinions. My critical thinking manifested itself in questions raised in class which made the lessons more interactive.
I continue to see the benefits of debating in my graduate school stretch:
"I might have stopped debating (bar some trans-time zone debate adjudication), but debate has become the basis for the critical thinking I imbued in my essays that won praise from my teachers, the abundance of things I have to say about class topics, and the way I articulate myself. I cannot stop realizing the wonders debate has brought whenever classmates commented 'It makes sense that you debated'" (recent Facebook post)
In an MSc Thesis Workshop where we presented about our Thesis topics to the cohort and an emeritus professor who is adept at giving methodological advice, I initiated the act of raising feedback and questions after each person's presentation, which stoked competition in the audience to follow suit. The workshop was so interactive and helpful that at the end, the professor in charge commented that it was the best workshop he had hosted in all his years at the department. Moreover, during coffee breaks, classmates would surround me to praise the incisive questions I raised, for which they were grateful.
Of course, debate helped cultivate these skills, but it is IUDP itself that gave me room to hone them, thanks to the discussion-based, seminar classes where the small class size allows us to freely express ourselves. The various social science disciplines at IUDP also made me more well-informed: knowledge from my International Politics at IUDP helped me raise attention-grabbing questions in my Sociological Analysis classes about cultural change and other-regarding voting patterns in politics.
Lastly, another takeaway from IUDP which made me stand out at grad school is none other than presentation skills. Surprisingly enough, lectures by professors and presentations by students at grad school remain boring and document-like. Thanks to the Presentation skills course by Dr. Babovich at IUDP and my then-classmates who made the most aesthetic slides in the world, I learnt the form of effective communication and managed to wow my professors and classmates at grad schools with illustrative, succinct slides and effective use of diagrams, relieving them of the usual sleepiness associated with presentations.
IUDP – the start of a globe-trotter
During my last year at IUDP, I was debating between staying in Japan and going elsewhere for further studies. I consulted with my then-supervisors (Dr. Viktoriya Kim and Dr. Aleksandra Babovich). It only took a few questions from them that I was enlightened and motivated. They asked if I could navigate academically in Japanese and what style of supervision I wished to be under. Upon hearing my answers, they encouraged me to leave Japan because diversifying my academic and cultural background is crucial for making a name for myself in the international academia. Thanks to their visionary advice, I plucked up the courage to take that first step of applying to grad schools in other countries. And what unraveled next is what you already know – my journey as an intellectual globe-trotter, being propelled to research of not only higher standard, rigor, and impact, but also meaningfulness, and unafraid of new possibilities.