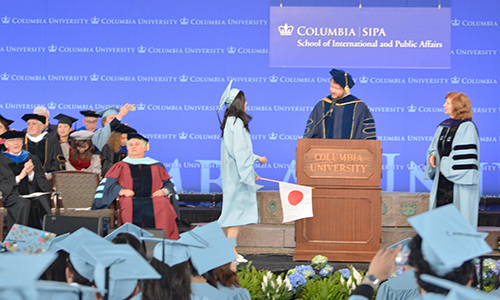 Background: At Osaka University
Looking back at my undergraduate years, I was fortunate to study and explore diverse social science subjects. Although I was initially interested in studying sociology and anthropology, after my three years at the Human Sciences International Undergraduate Degree Program (HUS) at Osaka University and my exchange year abroad at UC Berkeley, I found my true passion towards public policy. As much as I enjoyed learning and debating over social issues, I wanted to explore beyond that scope, and learn to develop practical solutions through policy making.
During HUS, I was an active member of the university's debate team, TEDxOsaka University student committee, Japan-Netherlands Student Conference (JNSC) student committee, and a founding member of the University Student Chamber (UNISC) Kansai branch, and also had funded opportunities to travel to Belgium, China, Germany, Netherlands, Philippines, U.K, and Vietnam to participate in student conferences. As much as I enjoyed taking diverse courses at HUS, participating in student conferences and spending time with peers with similar academic interests helped me to expand my perspective on what I wanted to do post-graduation.
Graduate School: As a dual master's degree student at the University of Tokyo and Columbia University
After graduating HUS, I entered the Graduate School of Public Policy (GraSPP) at the University of Tokyo and spent my first year studying evaluation tools for policy making such as economics and statistics as well as learning Japanese policies. In addition to taking academic courses, there were plenty of practical opportunities to practice policy making. I had the privilege of representing Japan at the annual Asian-Pacific Economic Cooperation (APEC) Conference in Lima, Peru and the University of Tokyo at the World Government Summit in Dubai, United Arab Emirates. These experiences helped me to realize the complexity of policy making and its relevance with international relations.
At the University of Tokyo, I was also fortunate to participate in the Global Leader Program for Social Design and Management (GSDM), an interdisciplinary doctoral program to train top leaders. As part of my research in educational policy making, I traveled to the U.S., Vietnam and Myanmar to attend academic conferences and field projects. These experiences motivated me to further study public policy and explore its relationship with international development.
During my second year of graduate school, I was admitted to study at the School of International and Public Affairs (SIPA) at Columbia University as a dual master's degree student. At SIPA, I participated in a capstone project organized by the United Nations Education Commission, a NGO that supports education policy reforms. As part of the project, I traveled to Rwanda to study the education policy reforms conducted in the country particularly on the primary education level. As it was my first time to travel to an African country, the entire experience was very eye-opening, allowing me to develop further curiosity in working in Africa and for developing countries.
Although participating in two master's degree programs meant a heavier course load, the experiences in both Tokyo and New York were very fulfilling and I am thankful to my professors back at HUS for encouraging me to strive for my dreams and further continue my studies of my academic passion back in my senior year at HUS when I consulted them for help and guidance.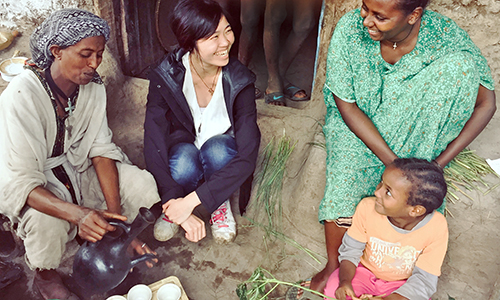 Internship Experiences: Working at the UN
I participated in over seven internships and fellowships after entering graduate school, but the highlights for me were working at the Permanent Mission of Japan to the United Nations (UN) in New York and UNESCO's Asia and Pacific Regional Bureau for Education in Bangkok.
At the Permanent Mission of Japan to the UN, I worked for the Social Section, responsible for gender inequality, child labor, migrant issues and other humanitarian affairs. As a part-time intern, I attended UN Security Council meetings, General Assembly meetings, and resolution meetings and through these experiences, I learned Japan's standpoint towards various global issues that the world is facing today[1]. Working at the UN headquarters allowed me to grasp the UN system, and also seek interest in knowing more of the responsibilities of field offices, and which was why I decided to pursue another internship at UNESCO Bangkok.
At UNESCO, I was assigned to the Inclusive Quality Education (IQE) section where I was primarily in charge of researching on early childhood education and multilingual education. As a full-time intern, I was in charge of multiple tasks, which led me to gain skills in academic research and writing as well as international conference planning. Two of the biggest accomplishments for me were being part of the latest ECCE report published by UNESCO and publishing an article on multilingual education[2]. Although the process was tough and going through hours of research was not easy, working as part of the research team and understanding the UNESCO scheme and procedures were definitely a valuable part of my experience.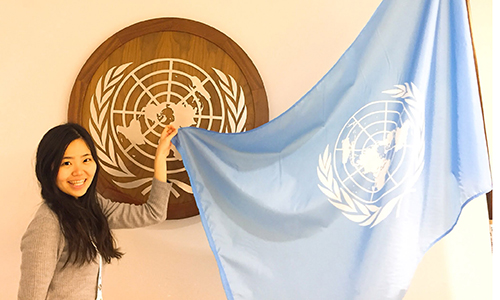 ---
[1] Japan was part of the UN Security Council in 2016-2017 as a nonpermanent member.
[2] Regional Guidelines on Innovative Financing, Mechanisms and Partnerships for Early Childhood Care and Education (ECCE) report link: https://unesdoc.unesco.org/ark:/48223/pf0000371189 // "Mother tongue-based education is changing lives in deep South" newspaper article link: https://www.nationthailand.com/opinion/30364482