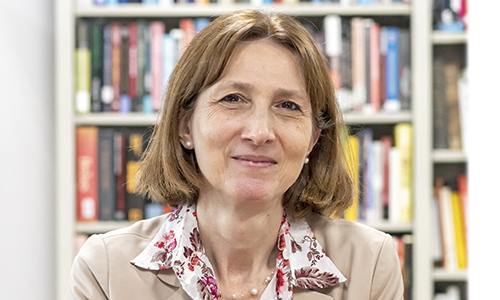 Associate Professor in the Graduate School of Human Sciences
Deputy Director of the Human Sciences Undergraduate Degree Program
Profile
Paola is an Associate Professor of Japanese Studies at Osaka University, Graduate School of Human Sciences, and the Associate Director of the Human Sciences International Undergraduate Programme. She is also a member of the Committee for the Promotion of Internationalization of Education of the Graduate School of Human Sciences and a member of the Osaka University International College.
She has been a member of faculty at Osaka University, Human Sciences International Undergraduate Programme since 2015.
Education
Paola holds a double PhD degree in East Asian Studies from the University of Sheffield, School of East Asian Studies, and Law from Tohoku University, Graduate School of Law. After receiving her double PhD, she was a JSPS Postdoctoral Research Fellow at the University of Tokyo, Graduate School of Humanities and Sociology. She specializes in the interdisciplinary study of gender, religion, and civil society, with contemporary Japan as a case. Paola earned a Laurea Magistralis in Japanese Language and Literature from the University of Venice (Italy) and then studied in Japan as a MEXT research student at the University of Tokyo, Graduate School of Humanities and Sociology. There she specialized in Sociology of Religion with a focus on the gendered aspects of Japanese New Religions.
Personal websites:
https://orcid.org/0000-0002-8059-0316
https://researchmap.jp/orcid.org
Research Interest
Paola's main research interests are in the area of gender, religion and civil society in Japan. She investigates disaster-related gender and religious dimensions of vulnerability and resilience through an analysis of women's roles in faith-based volunteer groups contributing to post-disaster activities. She is currently working on the role of religious organizations in response to the COVID-19 pandemic and the resilient component of spiritual-religious coping strategies among Japanese women. Her research work draws upon extensive fieldwork in various urban and rural areas of Japan. She has published several works in English, Japanese and Italian on a gendered approach to Japanese faith-based volunteering, and she is currently co-editing a collection, the Handbook of Disaster Studies in Japan (MHM Publishing Inc., forthcoming 2022).
Her current research is reflected in several research projects sponsored through competitive funds. In 2020 she initiated the research project Gender and Disaster Resilience: A Study of Women's Faith-based Relief Activities in Japan (2020-2025) sponsored by the Japan Society for the Promotion of Science (JSPS) Kakenhi Grant. This project builds on research outputs of a previous JSPS Kakenhi project (2016-2020) titled Gender, Religion and Civil Society in Japan: Implications for Participatory Democracy. In 2012-2013 she was a JSPS Postdoctoral Research Fellow at the University of Tokyo, Graduate School of Humanities and Sociology with the project titled The role of Japanese religious organizations in the wake of the Great East Japan Earthquake, which built on findings of her doctoral research project: Women's identity formation and transformation in contemporary Japan: a gendered approach to faith-based volunteering.
A second area of research interest is in the Christian Century in Japan (ca. 1550-1650), with a specific focus on the first visit of the Japanese Christian mission, the Tenshō Mission, to the Vatican in 1585. In 2004, while working as a Coordinator For International Relationship (JET Program) in Azuchi Town, Shiga Prefecture, she initiated the Azuchi Castle Folding Screen research project and conducted a three-year investigation on primary and secondary sources in the Vatican, Italy, and Japan. In 2018 she founded the Azuchi Screen Research Network (ASRN https://www.azuchiscreens.org/) and initiated collaborations and research activities with international scholars and researchers. The ASRN research activities are sponsored through crowdfunding by Sugimoto Studio (New York).
Teaching
Introduction to International Education
Social Stratification in Japanese Society
Introduction to Japan Studies
Religion in Japanese Society
Women and Religion in Contemporary Japan
Gender Studies
Comparative Education
Social Sciences Japanese Texts Reading
Dissertation Seminar
Research Data Analysis
Dissertation tutorial
Machikane Seminar: Global Studies
Contribution to society
As a parent of a third culture child in Japan, Paola is active in promoting interculturality for children in the local community and at the local public schools. She is also a member of a local neighbourhood association where she helps organize hiking activities for children around Minō Park.