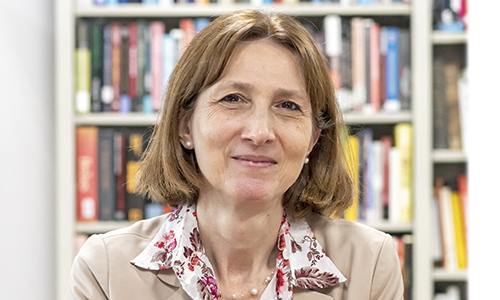 Profile
Born in Vicenza (Italy) and inspired by a fresco at the Olympic Theatre depicting the four Japanese boys of the First Japanese Mission to Europe (Tenshō ken-ō shisetsu, 1585), Paola pursued a degree in Japanese Language and Literature at the University of Venice. As a MEXT research student, she then studied at the University of Tokyo, Graduate School of Humanities and Sociology, where she trained in the sociology of religion, focusing on the gendered aspects of Japanese religions. Later she obtained a double PhD in East Asian Studies from the University of Sheffield and in Law from Tohoku University. She then returned to the University of Tokyo, Graduate School of Humanities and Sociology, as a JSPS Postdoctoral Research Fellow. There she developed a qualitative interdisciplinary approach to faith-based volunteering intersecting with gender and disaster studies, with contemporary Japan as a case. In 2015 she joined the Human Sciences International Undergraduate Degree Program (IUDP) and became its Director in 2023. Paola has been living in Japan for almost 20 years.
Personal websites:
https://orcid.org/0000-0002-8059-0316
https://researchmap.jp/orcid.org
Research Interest
Paola's main research interests lie in the interdisciplinary areas of gender, religion and disaster studies in Japan. She is currently investigating disaster-related gender and religious dimensions of vulnerability and resilience through an analysis of women's roles in faith-based volunteer groups contributing to post-disaster activities, including COVID-19-related institutional and faith-based volunteer responses. Her research draws upon extensive fieldwork in various urban and rural areas of Japan. Her current research is reflected in several research projects sponsored through competitive funds, including the Japan Society for the Promotion of Science (JSPS) Kakenhi Grants (https://nrid.nii.ac.jp/ja/nrid/1000010769582/). Paola has published several works in English, Japanese and Italian. Her first book, Promising Practices: Women Volunteers in Japanese Religious Civil Society (Leiden: Brill Publishers, 2015), brings together the themes of womanhood and motherhood, gender, religion, and meaning-making in civil life that constitute her core areas of expertise. She is finalising the Handbook of Disaster Studies in Japan (MHM Limited, 2023-24), a co-edited collection of 40 chapters using the interdisciplinary critical disaster studies approach.
Teaching
Gender Studies
Introduction to International Education
Comparative Education
Introduction to Japan Studies
Social Stratification in Japanese Society
Religion in Japanese Society
Women and Religion in Contemporary Japan
Social Sciences Japanese Texts Reading
Dissertation Seminar
Research Data Analysis
Dissertation tutorial
Machikane Seminar: Global Studies
Contribution to society
Paola is still fascinated with the 1585 endeavour of Tenshō ken-ō shisetsu (1585), which first inspired her at a young age. The 1585 first Japanese embassy to Europe had a ripple effect on Europeans' understanding of the Far East and on the Japanese's knowledge about the world outside Japan: a unique case of early globalisation imbued with intercultural nuances. In 2004, Paola took on a job as a Coordinator for International Relationship (JET Program) in Azuchi Town, Shiga Prefecture, and initiated the Azuchi Screens research project to investigate the Tenshō ken-ō shisetsu through primary and secondary sources in the Vatican, Italy, and Japan. Her activities led to the discovery of the drawings of two members of the 1585 embassy, now at the Nagasaki Museum of History and Culture. In 2018 she founded the Azuchi Screen Research Network (ASRN https://www.azuchiscreens.org/) and activated collaborations and research activities with international scholars and researchers. Given the historical and cultural significance of the ASRN research output, the team is working with Shiga Prefecture and Omihachiman City authorities, among others, to deliver an exhibition to the Italian pavilion at the upcoming Expo in Osaka in 2025. These activities are reported in seminars and conferences organised in association with local authorities of Shiga Prefecture and Omihachiman City, and are widely covered by national media.